intraMAX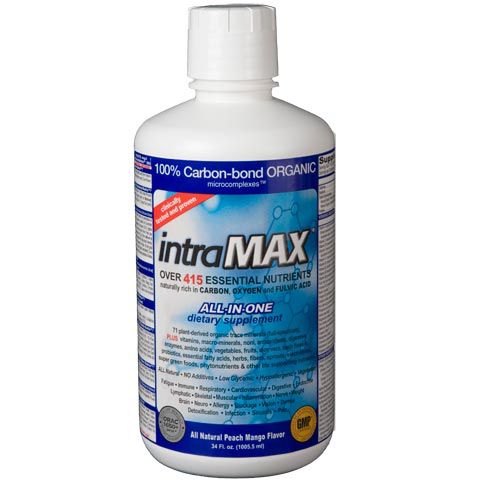 click to enlarge
intraMAX
intraMAX - 33 oz
---
What is intraMAX?
intraMAX® is a 100% organic carbon-bond liquid microcomplexed™ trace mineral supplement, plus an all-in-one multivitamin and much more. It contains 70+ trace minerals along with other health promoting "super foods" which totals more than 415+ essential organic carbon-bond microcomplexed™ nutrients in each bottle. intraMAX® is the most scientifically advanced, clinically proven, health promoting organic nutritional supplement available today!"
70+, 100% organic microcomplexed™ trace minerals (full spectrum)
proprietary organic "carbon-bond" intraCELL™ V Technology
124 antioxidants ("free radical" scavengers / anti-aging)
40 amino acids ("building blocks" of protein)
carbon (living), 100% organic (144,500 mg/l)
7 essential fatty acids (EFA)-omega 3, 6 & 9
oxygen - 427 mg/l (dissolved & stabilized)
14 digestive enzymes (pure plant derived)
43 super green foods & phytonutrients
54 herbs (adaptogenic & supportive)
38 essential oils (organically bound)
64 vitamins and nutrients (essential)
19 macro minerals (100% organic)
23 vegetables (antioxidant rich)
65 electrolytes (100% organic)
aloe vera (organically bound)
8 protein mineral nutrients
30 fruits (antioxidant rich)
silver (organically bound)
13 probiotics (non-dairy)
noni (organically bound)
11 carotenoids (mixed)
25 fibers (all natural)
ultra hypoallergenic
11 optimum seeds
110 bioflavonoids
fulvic acid (9.2%)
100% drug free
NO additives
100% natural
100% vegetarian
intraMAX® Does NOT Contain: preservatives, colloids, fat, cholesterol, wheat, gluten, caffeine, corn, yeast, rice flour, peanuts, nuts, soy, dairy, fish or fish oil, animal products, artificial additives, artificial colors, artificial flavors, fillers, pesticides, herbicides, antibiotics (drugs), chemicals, starch, binders, coatings, excipients, or flow agents.
intraMAX® Protocol
intraMAX® with intraCELL™ V Technology is very powerful product. Doctors and patients report very significant results. When prescribing this product for new patients, a conservative dose is appropriate. As the body detoxifies and becomes accustomed to the product, the dosage may increase. Patients beginning use of these products may excrete toxins for some time. This may present as brightly colored urine or modified feces. As the body acclimates, these conditions will subside.

More Detail
Shake well before use.

- Best taken on an empty stomach first thing upon arising, do not dilute with juices, foods, or water.
- Best to hold inside the mouth for 60 seconds before swallowing. If you have sensitive teeth or gums, just swallow right away.
- Follow with 8 oz. to 10 oz. non-chlorinated filtered water; never tap water.
- Do not take pharmaceuticals or any other nutraceuticals within 2 hours prior or 2 hours after taking dose.
- Please take 1 day a week off (e.g., Sundays) to allow your body to rest.
- You may eat food no less than 30-minutes before or after your dose.
- Do not take medications, caffeine, or other supplements until 2 hours have passed.
- Refrigerate after opening.
Dosage
- Adults : Normal protocol calls for one tablespoon (1/2 ounce) upon arising for the first four days. On the fifth day increase the dose to another tablespoon in the mid afternoon, but not past 6 PM.

- Children : Normal protocol calls for one teaspoon upon arising and one teaspoon after lunch and one teaspoon before 6 PM (this dosage equals one tablespoon).
Measurements
6 teaspoons = 1 ounce
3 teaspoons = 1 tablespoon
2 tablespoons = 1 ounce
1 capful = 1 ounce
Product Analysis
Several different analyses have been performed on intraMAX™ and intraMIN™ to certify the presence of all ingredients listed on the label. These tests included:
Carbon and Proton Nuclear Magnetic Resonance
Ion Chromatography
Cold Vapor Atomic Absorption
Graphite Furnace Atomic Absorption
Inductively Coupled Plasma Optical Emission Spectrometry